until gays can get married, please shut the fuck up. They didn't even get to fight for their country freely up until last year. Unless you're in the middle east (which even then it's considered a local celebration for catching and lynching gays), just shut up. So many chicks on here complain about being verbally sexualized, well I'm pretty sure there are a shit ton of dudes would rather have people cat calling them at school or on the street than being physically threatened. When was the last time gays got to run in any major political race? Meanwhile you have Hillary, Palin, Bachmann, Feinstein, etc etc. Maybe not ALL the best people but they're women, they're running and they're considered. So the next time you wanna bitch about how much America sucks because you have a vagina think twice, you sound like a spoiled brat.

You're a misogynistic asshole.

You can care about multiple things. 

Please delete this post if you want to be taken seriously.

What the fuck did I just read.
Everyone knows that people can only care about one thing at a time. ONE.
"Today, unelected judges cast aside the will of the people of California who voted to protect traditional marriage. This decision does not end this fight, and I expect it to go to the Supreme Court. That prospect underscores the vital importance of this election and the movement to preserve our values. I believe marriage is between a man and a woman and, as president, I will protect traditional marriage and appoint judges who interpret the Constitution as it is written and not according to their own politics and prejudices."
—
(via paxamericana)
There needs to be a tumblr for visual representations of politicians slimy contradictions. Especially in an election year. (Contradictions are not bad in and of themselves, however when you are denying seeing folks as human beings, I am calling spades).
(via newmodelminority)
Oh, that's nothing: check out this gem from when he was running against Sen. Ted Kennedy: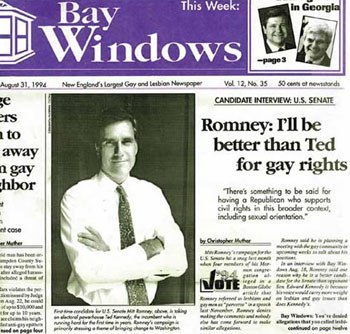 (via spaceykate)
(via paxamericana)
1. There is no empirical evidence that supports the denial of marriage rights to people in same-sex relationships.




2. There is empirical evidence that denial of marriage rights to people in same-sex relationships is damaging to their psychological health.

3. There is empirical evidence that opposing denial of marriage rights initiatives has beneficial psychological effects.

4. Psychologists have colleagues and we have clients for whom this issue is relevant and important, and who appreciate representation. From a social justice perspective, significant benefits accrue to all of us when diverse families are legally and socially sanctioned.

Thus, it is resolved that, based on the available empirical evidence, the North Carolina Psychological Association is opposed to the May ballot initiative that would alter the North Carolina Constitution to make marriage between a man and a woman the only legal domestic union recognized in the state. This position will be communicated to NCPA members, and NCPA may be listed with other organizations opposing the amendment, such as Equality NC. NCPA may also seek to make coalitions with other mental health associations and agencies for the purpose of opposing the amendment.
The Star-Tribune reports:

In an effort to promote the passage of the marriage amendment to the state's Constitution, Twin Cities Archbishop John Nienstedt wants Catholics to recite a special prayer during mass. He's also urging area Catholics "to embrace Fridays as a particular day of prayer and sacrifice for the success of this most current struggle to defend marriage with our civil constitution. Without such deliberate prayers and sacrifices, our efforts will be in vain. But with God, all things are possible."

"Much rides on the success of our struggle to defend marriage," according to Nienstedt, who made the comments in a letter posted on the archdiocese's website. It's the latest effort by Minnesota church leaders urging Catholics to support passage of the proposed amendment, which calls for a ban on gay marriage. This fall, the state's Catholic bishops took the unusual step of directing parish priests across the state to form committees to help get the marriage amendment passed by voters in November 2012.

Dear Archdiocese of St. Paul and Minneapolis, 

I would like to direct you to Matthew 7:3-5 as you seem to be forgetting that this exists in your Bible:

 3 "Why do you look at the speck of sawdust in your brother's eye and pay no attention to the plank in your own eye? 4 How can you say to your brother, 'Let me take the speck out of your eye,' when all the time there is a plank in your own eye? 5 You hypocrite, first take the plank out of your own eye, and then you will see clearly to remove the speck from your brother's eye.

So there's nothing in your house that needs to be cleaned up?  Good; then lets focus on all the other shit that's going on in your religion firsts.  Then and only then might I take your letter seriously.

That is all. 

~ Kim
(Source: joemygod.blogspot.com, via nonplussedbyreligion-deactivate)
December 2, 2011 at 12:03 pm 

Ed Brayton

It never ceases to astonish me how much power bigots think The Gay has. In their minds, it's so incredibly and alluring that we must make the lives of gay people miserable lest their children be tempted to give it a try and risk their mortal souls. Bryan Fischer thinks that men became gay just by seeing that Barney Frank was in Congress:
 

Fischer: Barney Frank served seventeen terms in Congress and this is some of the stuff in his background: he was the first openly gay member of Congress – I just saw deal, according to the Centers for Disease Control, sixty-one percent of all of the new HIV/AIDS cases are among men who have sex with men. This is a dangerous, risky, immoral, unhealthy lifestyle, and Barney Frank has been an open practitioner of a lifestyle that is condemning one young man after another to an early grave. This is not somebody to admire, this is not somebody to honor – you've got all these left-wing media outlets out there talking about what a colorful figure he was and how important a legislator he was and how he's going to be missed on the American political scene. And yet he modeled a lifestyle which is really a deathstyle. People imitate that. You have got to know that people are influenced toward that behavior, if they have any kind of inclination in that direction, if there are very prominent people that are engaging in it, they're doing it openly, they are praised by the press rather than criticized for flaunting this kind of behavior, you've got to know that has got an impact. So who knows how many people were sort of drawn or encouraged in some way by Barney Frank's example to dabble in a lifestyle that eventually cost them their health and maybe even cost them their lives.

Man, Planet Wingnuttia is one weird place. On planet earth, where the rest of us live, this is an absurd idea. I know lots and lots of gay men, many of whom I admire very much, yet it has never occurred to me that I should give being gay a try. There's a simple reason for that — I'm not gay. And there's another reason for it — them being gay has nothing to do with my admiration for them. Thinking one should be gay because someone you like or admire is gay is the equivalent of thinking that you should like broccoli if they also like broccoli. But one simply has nothing to do with the other and no rational person would think it does.

But since it's all about risk of disease, Fischer is in favor of lots and lots of prominent gay women because lesbians have the lowest incidence of AIDS and other STDs, right? Right? Nope, he thinks they're evil too. Gee, it's almost as if that was a red herring rather than a serious argument.
This is hilarious, and sad, and disgusting. 
Just a little anecdote, when I was growing up I had a gay uncle that was around quite a bit, he was very "out" in his homosexuality, he even lived with us for a while.
I knew he was gay when I was a child, this was never hidden from me, I even heard him talk about his boyfriend to my mother. It was just understood that that's who he was, and I accepted it, he just like men instead of women.
Sure I asked him questions, I was curious, and he explained to me that about the time his male friends and classmates started noticing girls, he started noticing boys, he didn't know why, he just knew that he was attracted to men.
Thing is, here I am as an adult, and I grew up to be heterosexual, having a gay family member around, and being in an environment where it was accepted had no bearing on my sexual orientation what so ever.
I never understood this argument, but then again, I don't understand a lot of arguments people make to justify hate.  
(Source: freethoughtblogs.com, via nonplussedbyreligion-deactivate)
by Staks Rosch - Philadelphia Atheism Examiner October 22, 2010
NOTE: This article is almost exactly a year old, but very pertinent considering the rhetoric from GOP candidates and their supporters right now.
According to a new poll from the Public Religion Research Institute, two thirds of Americans believe that religion is in part to blame for the rise in gay suicide. Younger people in particular disapprove of church attitudes toward homosexuality.
The Public Religion Research Institute asked over a thousand Americans a series of questions about their church's attitude about homosexuality, the attitude of other churches in relation to homosexuality, and the impact of those messages on the gay community as well as other related questions.
One third of those surveyed stated that the messages coming from churches in relation to homosexuality contribute a lot to the high rates of suicide among gay and lesbian youth. Almost another third stated that it contributes a little and only 17% stated that it doesn't contribute at all.
Interestingly enough, most of the people surveyed believe that their own house of worship presents a positive view of homosexuality (45% grading their churches an A or a B). Although young adults (ages 18 to 34) believe that the messages from their churches are very negative toward the gay community.
You can read the full results of the survey HERE and you can see the exact questions HERE (pdf).
If you're anti-choice, if you're anti gay marriage, if you have a problem with gays or transgendered people, fine, go about your merry little way being a fucking asshat.
But the moment you try to say something that is NONE of your fucking business should be illegal, fuck you. The moment you physically assault someone because they offend you. Fuck you. The moment you try to tell someone what they can do with their own fucking body fuck you.
The fact of the matter is, it's none of your fucking business. Stop trying to tell other people how to live their fucking lives and get over yourself.
And oh yeah… fuck you.
The slaying of Lawrence King has alarmed gay rights activists and led to demands that middle schools do more to educate youngsters about discrimination.
Prosecutors are scrambling to arrange another trial for a teenager who shot and killed a gay classmate after the first ended in a mistrial.

Seventeen-year-old Brandon McInerney, then 14, shot 15-year-old Larry King twice in the head in the middle of class. According to a friend's testimony, McInerney decided to bring a gun to school after King regaled in him the hallway with, "What's up, baby?" He pulled the trigger shortly after hearing that King was considering changing his name to Latisha. 

Jurors had no doubt that McInerney killed King.

What they could not determine was the degree of the offense — was it manslaughter or homicide? The disagreement stems from the defense's argument that McInerney was responding to persistent advances from King.
First, I want it to be known that the reason I'm writing this is because of an ask I saw received by Aaron (abaldwin360 ), from a gay man regarding his and his partner's struggle on whether or not to have a child.

So, starting the letter now.

My name is Carolyn, and I'm 19 years old. My mom is a lesbian. All my life, she's had a girlfriend- except for when I was little, and I barely remember that at all.

I like reading and swimming and I have plenty of friends. I go to college, I recently got a minimum wage job, I like cats and video games, and am generally a nice person. I'm what a lot of people would consider to be a normal 19 year old girl.

There's nothing wrong with me, or with my family. We're a loving, functional family and my mom raised me to be an accepting, kind person. She taught me to see the good in people, to not judge people based on their background, race, intelligence, religion- or sexual orientation.

Yes, in middle school there was some teasing. Horrible teasing. People called me a dyke, they wouldn't sit with me at lunch and harassed me relentlessly. Every day was a struggle to get up in the morning, to just pull myself through the day, and everyday I came home not wanting to go back. I didn't understand why they didn't like me. And honestly, it used to affect my everyday life on a large scale.

Then high school came around. And everything was different. It didn't matter to me anymore that she was a lesbian, I just didn't care and I most certainly was no longer ashamed. It didn't matter to me if someone didn't accept me for that, or her for that. I loved her. She was, and is, my mother. I began to stand up for myself- for her. I joined the GSA at my high school, I spread awareness and my ultimate goal? To ensure that any other kid going through the same thing I did when I was younger knew that they weren't alone, because I knew that feeling alone was the worst thing that could happen in that situation.

It's scary to know that your child could be chastised for having two same sex parents. It's scary to bring them into a world, knowing that the world may or may not accept them.

My point is, yes it can be hard for kids with gay parents to get through school. But it is possible. If you're strong, and loving and show them the right way to treat people, then eventually they'll have a child, and teach them those same lessons- and someday, the world will be full of people like that.

I guess that's all I wanted to say. I just wanted you to see the product of a child that has gone through that, a child that has survived it and has come out for the better, learning valuable life lessons that otherwise never would have been taught. And despite what people believe, a normal, healthy and generally happy person.
Thank you so much for sharing that!
I can kind of identify, though not to the extent you described, but I got some a good deal of crap in elementary school because my gay uncle that lived with us.
I especially hated that some kids would make remarks like, "Did he ever touch you." and it would piss me off so fucking bad, he was gay not a pedophile.
(Source: daughter-of-din)